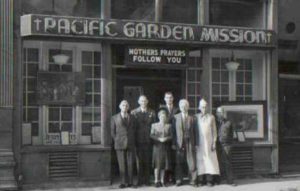 God's Faithfulness in Chicago for over 140 years
Pacific Garden Mission is proud to be the nation's oldest Rescue mission working to change lives through God's transformative love.
The Mission began in 1877 when Colonel George and Sarah Dunn Clarke opened a ministry in a tiny storefront at 386 South Clark Street. A potbellied stove kept out the Chicago chill, and kerosene lamps supplied flickering light. Heartwarming Bible verses graced the walls, speaking eloquently of God's love.
Upon the Clarke's retirement, many leaders followed in serving the Lord here at the Mission. These strong men and women of God have included:  
Through many years of loving leadership, the Mission has expanded in so many life-changing ways, including adding a Mothers and Children's ministry, New Life , New Day, and Transient Resident programs, our TV program and the award winning  radio drama, UNSHACKLED.
Thanks to each compassionate leader, caring volunteer and friend who has helped shape our past—and to everyone who offers their generous support to help guide our future.
We are excited to see more lives changed in His name as we travel this road together.