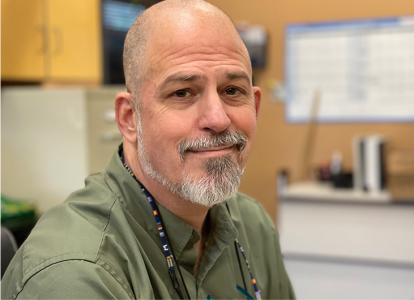 He Found a Relationship with Christ through Quarantine
"With your help, I am learning to walk with God."
After facing challenging circumstances, Jason sought refuge at Pacific Garden Mission. Ten years prior to coming here, God freed him of an addiction to alcohol—but Jason knew God desired much more for him in this life. Jason soon joined the New Life Bible Program, and with your faithful support, he has been here ever since. Our purpose at PGM is to reach the lost with the Gospel of Jesus Christ, and we thank you for helping make this possible. The faithful generosity of donors like you wholeheartedly humbles us. Thank you for standing as a reminder that we are not facing these spiritual battles on the front lines alone.
Jason
"My wife died after 10 years of marriage—she was 38, and I was 34. After that happened, I turned to the bottle—10 solid years of drinking. In 2009, I was laid off by the newspaper industry. A 25-year career was over . . . and I was still drinking. That April, I pulled over to the side of the road on the way home and called out to God because I couldn't keep drinking. He took away the desire, and I have been alcohol free for 12 years now. God took that away, but I didn't follow through. I called on Him, but that was all I did. I believed but did not worship, and I never entered a relationship with God.
"I came to Pacific Garden Mission in February 2020. I was an overnight guest here for four months, and because of COVID restrictions, I stayed inside the building and listened to the sermons. I watched the Mission staff deal with the COVID situation, and I saw how generous, loving, and giving they were. Tommy from Guest Services would share sermons with the overnight folks, and one time, he shared on apologetics. It was a softer approach, which brought me to where I needed to be with God. Just as the quarantine was ending, I decided to enter the New Life Bible program, and I committed to building a relationship with Jesus.
"I have seen God at work every day here at PGM. His hand is mighty here—that was exactly what I was looking for when I came, and that is exactly what I have gotten.
"There is something about Pacific Garden Mission that just shows you God's work, which demands you have a relationship with Him—I find that extremely exciting. When I joined the program, I was assigned to the second floor to help the overnight guests. I would get them ready for bed, get them up in the morning, and take care of their sheets and bedding.
"The program gave me discipline, including discipline in reading the Bible and praying. It gave me a foundation of understanding Scripture and how to pursue a more profound understanding as well. I think about 1 Kings 19:1-8: it talks about Elijah running and fleeing, but then the Lord gave him rest to restore, and that is what I found here being in the program at Pacific Garden Mission. I also think about Psalm 37: lean on the Lord, and trust in the Lord. These things are so important to me now, and I will continue to trust God to guide me into my next steps as I walk with Him."
In a world where the Gospel is often suppressed, the help you provide is key to ensuring the Gospel of Jesus Christ is openly shared with the lost and hurting people who find their way to the Mission. When Jason asked God to help free him from a 10-year drinking addiction, God answered his call. But Jason learned there was more to being a fully functioning follower of Christ than just being sober.
Through the structure of the New Life Bible program and the guidance of his counselors, pastors, and teachers, Jason was able to build a new life investing in his daily walk with Jesus Christ. We humbly thank you for the crucial aid you provide in this ever-growing and vital ministry.
Please help support Pacific Garden Mission today, so that more men, women, and children can find the hope they need, starting with a warm meal and a safe place to sleep.
Let's connect. Subscribe to get our latest news.
"*" indicates required fields