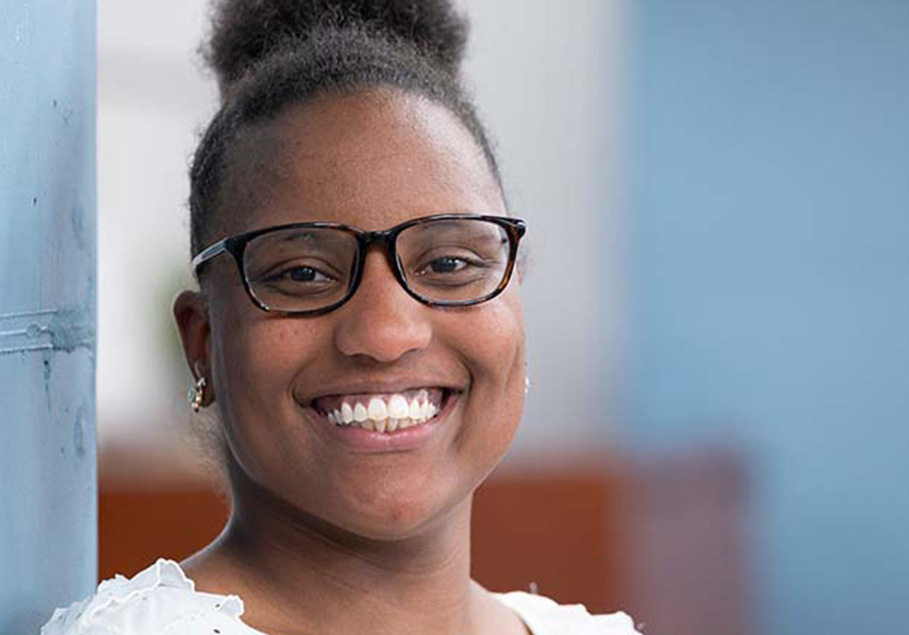 Jesus Led Her Through the Door—Not Once, But Twice
As Thanksgiving approaches, we look forward to family time and sharing blessings and encouragement with others this holiday season. But the holidays are not always a joyous occasion for everyone. In fact, for some, this can be the saddest and most lonely time of the year. But that's where YOU come in . . .
Craieasha
Always remember that the help you provide here at PGM gives warmth and safety to those who don't often experience these same joys in life. Your support helps ease people's suffering and makes an impact in God's kingdom.
You help share the Gospel daily at PGM with each hurting soul who comes through our doors for help, and we're overjoyed by the progress one young woman has made since surrendering her heart and mind to Jesus. As you read her story, please know that it was made possible because of you!
"My mom was a single mother, and she would take us to church often. I started singing in the youth choir. As a young child, I was very happy, but when I was 10, I was sexually abused. The abuse continued, and by the time I was 14, I wanted to end my life. I was bullied, and I just felt like I didn't belong . . . I didn't see myself being worth anything.
"For whosoever shall call upon the name of the Lord shall be saved."
– Romans 10:13 (KJV), one of Craieasha's favorite Bible verses
"Going through elementary and high school was a struggle because I would never socialize with the other kids. I was withdrawn and quiet. At 15, I started smoking marijuana. It would make me calm. I wasn't as worried about my image, and I wasn't as concerned about others. That was my way out besides suicide. By sophomore and junior year, I was fighting a lot. I was very angry and very sad.
"The reason I withdrew was that I never told my mom about the abuse. I didn't want anyone to know what happened to me—especially my mom because she said if someone ever touched me inappropriately, she would kill him. So, at that time when it happened, I just went into this shell. I didn't want her to murder anybody because this happened to me. My dad was already not there, and where would that leave us? In foster care or separated from my brothers.
"At 17, I wanted to end my life again because, by this time, I had become this girl I never wanted to become. I was tired of everything. I didn't know it, but I needed the Lord.
"The first time I was here at Pacific Garden Mission, I didn't take it seriously. I joined the program, but everything about me was pretending. My experience the first time was meltdowns and trying to be this 'Christian,' trying to be someone I'd never met—it was like I was a stranger to myself . . . and I was.
"The second time I came to PGM, Jesus led me through the door. June 2 of this year was the day I committed my heart fully to Christ. I am proud of my faith in God and that He still looked at me and took me in without me even realizing it.
"Now, I'm in the career development phase of the Bible Program, and Unshackled! is where I work as my ministry assignment. I am grateful that God has allowed this time in my life for me to be open and honest with who I am as a sinner, then come to know Him as my Savior. Now, I don't see the guilt and shame as something to stay in. God gripped my heart, saying, 'Come to me with everything, all your background, and decisions . . . everything.' Jesus led me through the door, and these are things I never released . . . until now—I've had a weight lifted off of me, and I don't have to live with regrets.
"For godly sorrow worketh repentance to salvation not to be repented of: but the sorrow of the world worketh death." —2 Corinthians 7:10
"When I hear this verse, it makes me glad that God saved me—He kept me from wanting to kill myself, continuing to do those crazy things, and doing life my way. I don't have to live with regrets, not one. All my pain, my childhood abuse, what I did or didn't get, the decisions I made . . . I let it go. I thank God for putting that verse in there. It is like that song, 'No turning back, no turning back, I have decided to follow Jesus . . . no turning back.'"
Craieasha has found a new family here at PGM. Now walking with God and surrounded by people who love and care for her, she has been able to escape the chains of anger, guilt, and shame as she grows in her new life in Christ. Surrendering her heart and mind to Jesus has allowed her to embody a new sense of peace and meaning in her life. We thank you for helping to make this story of healing and transformation possible.
Please help support Pacific Garden Mission today so that more men and women can find redemption.
Let's connect. Subscribe to get our latest news.
"*" indicates required fields