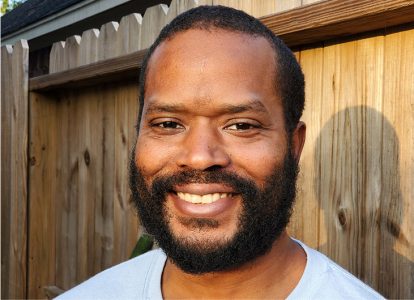 He Was Living Two Different Lives—but Now, He's an Entirely Different Man
"I was an introvert growing up and was very shy. I grew up in a Christian home, a strict household where no one in my family cursed or drank. I went to college never having had a drink, but I started experimenting, drinking, and partying. The pull of cocaine was that it helped me not be shy and get out of my shell. I was off to the races.
Brian
"After college, I got a good job as a project manager at an engineering firm—a six figure job—and started to climb the corporate ladder. But, I had this double life. During the day, I'd be in the office designing pipelines for oil and gas out in west Texas, and at the end of the day, I'd be sitting in a crack house with bedbugs crawling all over me and no bathroom or lights. I was two different people.
"I got married and had three kids. When my third kid was born, my wife was in the hospital with high blood pressure. She'd just given birth, and I remember leaving multiple times to get high while she lay there. That is how powerful the drugs had become; I had no control. I was totally hopeless. The addiction was punctuated by spells of short-term clean seasons as I tried to shake the habit. I think this intermittent abuse made it worse because hopes would rise and fall.
"My wife, parents, relatives, and friends shed more tears and sent up more prayers on my behalf than I will ever know. I had a job and a family, but I was close to death—literally, physically, and emotionally. So, I made my way to PGM where I joined and completed the New Day addictions recovery program. My life has a distinct delineation, Pre-PGM and Post-PGM. Before I surrendered to Jesus at the Mission, I poured my time, my love, my devotion, my money, my heart and soul, my worship into the pipe. After I left the Mission, the real challenge began.
"I left a very different man than when I came. In the weeks that followed, I did as much as I could to continue the daily routines I learned at Pacific Garden Mission. That kept me focused on the One who was keeping me. I knew I had to continue my service work (I worked in the kitchen at PGM), and I had to stay connected to Godly men. To that end, I sought out a mission in Houston and immediately began serving in their kitchen weekly.
"Before I left Chicago, I asked one of the PGM counselors to print out the work assignments that the Bible students must complete. My wife and I have been working on those together. We still have a weekly fellowship call on Sunday with a counselor, and I participate in the men's Bible program at PGM, where we pray, grow, and minister to each other. It has become my favorite hour of the week. Every morning, I get up and do a devotion, recite my memory verses—including the Roman's road—and put on the whole armor of God, just like we did in the 9 a.m. class at PGM.
"God has moved mightily in restoring relationships that were beyond repair. I am daily in awe that I still have a family. I came very close, many times, to permanent separation from my wife. The contrast between my life before PGM and after is like night and day. I am present in the lives of my children. My 6-year-old son puts on the armor with me and has Eph 6:10-12 memorized from the KJV! My wife and I are rebuilding our marriage, and I have asked her to forgive me for a lifetime of wrongs. Our pastor and counselor meet with us weekly and lead us in Christ-based marriage counseling.
"God continues to show up in the healing process. He is there for me in my moments of trial and weakness as He teaches me to be the husband and father He intended me to be. My father and I minister to the homeless and addicted people of downtown Houston on Sundays together. This has been a true blessing to me. God brings to remembrance the brokenness, the absolute need I have for Him, my utter dependence on Him to sustain me. If I have a fear, it is that I will become unplugged, forgetting how much grace I require daily.
"When I was drowning in my bondage, I would grasp onto anything, boldly rebuking and binding Satan, chanting the serenity prayer, NA, CA, AA, various outpatient and inpatient treatments . . . It was like grasping at little bits of wood and flotsam—they would hold me afloat for a while, but I would eventually become waterlogged and sink beneath the waves, flailing wildly again for something to sustain me. For years, I went on like this, scrambling from scrap to sinking scrap of false hopes. To the untrained eye, PGM may look like a big foreboding building full of lost and sinking men—but to me, it was my big, beautiful rescue ship!"
The joy of children having their father and a wife having her husband healed and transformed is something to rejoice over. Brian, back at home now for more than a year, has become the Godly husband and father God intended for him to be. For those seeking lifelong change that can weather the storms, through both peaks and valleys, the Gospel message of Jesus Christ holds strong with the same eternal truth it proclaimed two millennia ago—the same truth we have proclaimed here at Pacific Garden Mission for over 144 years. Thank you for helping spread God's love and truth.
Please help support Pacific Garden Mission today so more men and women can find safe refuge and get the help they need to escape their bondage.
Let's connect. Subscribe to get our latest news.
"*" indicates required fields