From Zero Confidence to College Grad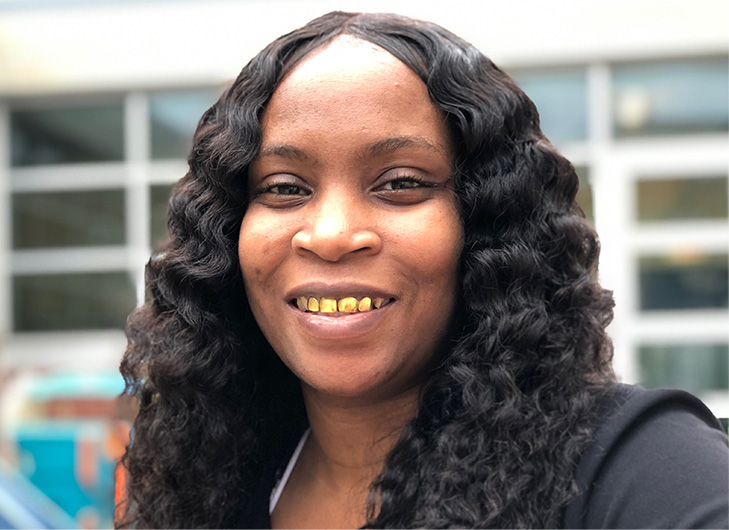 "You helped me find my God given Potential"
To see those who come full circle—from brokenness to wholeness, from homeless to having a home, and from being discipled to now ministering to others—this is what our Mission is all about. Your gifts are spreading hope to the hopeless . . . and not just hope in a vague feeling of hope, but solid hope in a God who can change us from within. Samantha shares just such a testimony, and the transformation she has undergone reflects the ongoing power of God who continues to work through our ministry with your support.
"My name is Samantha Pecunia. I came to Pacific Garden Mission because I didn't have a place to stay. I got evicted from my apartment, and I didn't know where I was going to go. At the time, I didn't know God was going to change my life, but I joined the Bible program.
"My mother abandoned my two sisters and me, so our grandmother raised us. Even within my family, my sisters and I were called dumb, and we were told we would end up like our mother because she abandoned us. While I was dealing with abandonment and verbal abuse, I was also molested by my uncle. I developed low self-esteem. At that age, I just felt like God had failed or left me. At the age of 15 I ran away. I was trying to find love in many different places, and I came to find out that wasn't the love I was looking for.
"After being evicted, I heard in my spirit to come to Chicago. I didn't know where I was going to go but I ended up here at Pacific Garden Mission—the police brought me here. It was my first time in a homeless shelter, and it was kind of scary. I felt all alone. I started reading the Bible. I heard the Spirit tell me to go upstairs and join the Bible program. The first couple of months I was in it just to be in it. Then I'd say about the third month is when Pastor Green said something to me that really stuck. He said that I can't be friends with the world. I was trying to fit in every place I went, and the pastor shared James 4:1-10 with me. I just grabbed hold of that scripture and I allowed God to come into my life. I surrendered everything to Him, and He cleansed me.
Humble yourselves in the sight of the Lord, and he shall lift you up. James 4:10
"I now work in mothers and children. I didn't want to work in mothers and children at first, but that is what inspired me to go to college. Once I passed my GED test, I went to college. I was kind of nervous, because I felt like I was dumb and stupid. But I prayed and asked God to help me on every assignment, and I was getting A's! It really just made me feel good, the better I would do in school. Being called dumb as a child really had a powerful impact on how I saw myself, but now I have my associate degree for early childhood education (with honors) and I am now transferring to DePaul with a scholarship. I also gained an apartment and have gotten married since graduating the PGM Bible program!
"When I came to the Mission, I was a very angry individual. I didn't want anyone to say anything to me, because all through my life I was abused. It made me become an angry person, and I never was able to express myself to anyone. I kept all of those feelings inside, and I put up a wall against people. Being at PGM has helped me begin removing some of those walls. I now want to work maybe in a public school, where I can help some of the kids that came up like me.
"Holidays can be very difficult for many people, it's very important to be surrounded by family during this time. I remember my first Thanksgiving and Christmas here at PGM, and thinking God had given me a new Spiritual family. When we went down for dinner, I was amazed at how much food was donated and the volunteers that would leave from their homes to spend it with the homeless by serving and make others feel loved. I took the opportunity to go around the women program table to ask what each of us was thankful for as a way to start a new tradition with my new family.
"I would like to thank Pacific Garden Mission for being who they are. They have helped me. I was never able to accomplish anything, and since I have been here, I have obtained my GED. I have finished the year-long women's Bible program, and now I am on staff here. I would like to thank them for all that they do. If you tell your problems to God, He will heal you. Being here at PGM, you have a good support system. God took anger away from me and instilled love into my heart."
Samantha's childhood sent her down a hard life path with a mindset that limited her beliefs in God and in herself. She went from being called dumb and not finishing school, to now graduating with honors and attending a four-year college, all while working in ministry here full-time. Her story shows she always possessed potential, but she just needed a loving, Godly environment to allow her to forgive, heal, and thrive. As a supporter, you help make stories like Samantha's possible. The ripples of change being made here are growing into Godly waves of revival, transforming and restoring lives . . . and we will only see the full extent of our impact when we are in His kingdom!
Please help support Pacific Garden Mission today so that more men and women can overcome drug abuse and have a chance at new life in Christ.