Battling the Stress of Homelessness and
Finding Comfort in Christ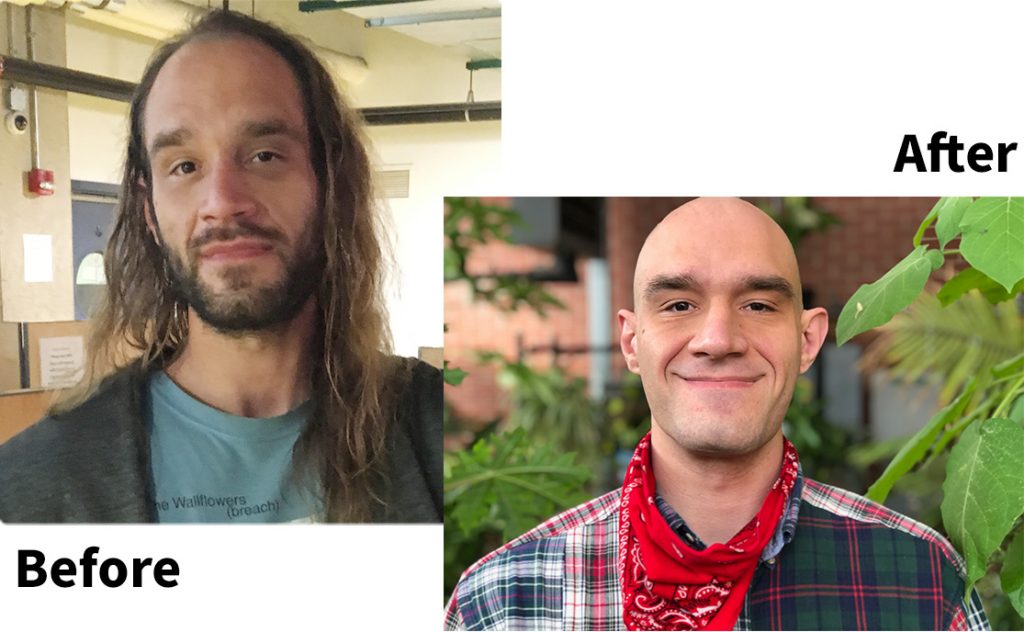 Imagine having the very foundation of your life ripped out from underneath you and tragically taken. At only five years of age, Felix witnessed his mother's murder and the subsequent suicide of his father. After a lifetime of anger and search for wholeness—and nearly a decade of homelessness—Felix came to Pacific Garden Mission, where with your help, he is now building a new foundation upon the One who will never leave him . . . Jesus Christ!
"When I was a kid, my family didn't have a lot of money. My parents had drug addictions, and there was a lot of abuse in my house. At some point, my parents' relationship got kind of rocky, and my father became abusive. My mother tried to get away from him. She was no longer using drugs and told him she didn't want to use anymore . . . she wanted to clean her life up.
"I was about five years old when I lost both of my parents. My father somehow broke into our apartment and killed my mother—with my brother and me there. I was right there when it happened, and it's affected me greatly.
"A short time after my mother was killed, my father committed suicide in prison. It seemed unreal, and everything was completely different after both my parents died. Since then, my relationship with my family has been terrible . . . every time they see my face, they see my father's face.
I will never leave thee, nor forsake thee. —Hebrew 13:5b
"I got out of high school, was selling drugs, and eventually started using harder drugs. It led nowhere, and it was at that point when I came to Pacific Garden Mission for the first time. I wish I had paid more attention. The Gospel was right there in front of me, but I thought it was just a 'feel-good' story. I still had that hole in me because I lacked a relationship with Christ.
"When I left the Mission, I started living on the streets, which lasted a long time—around 10 years. But, I had already found some connection with Christ at that point. The seeds of the Gospel were planted.
"Living outside was torturous. I think it's one of the worst things you can experience on this earth because no one trusts you. They look at you like an animal . . . you can't shower, and you can't eat normally. You start to hate because you see so many people doing well, and they won't even stop to have a conversation with you. Being homeless comes with a lot of stress. I felt like I was crying out in the wilderness. My heart was screaming for help, but I couldn't go to anyone. And that's when I came back to the Mission.
"Returning to Pacific Garden Mission, I started listening. I started really listening because I trusted Jesus Christ, but I was still unsure of His love for me. As an overnight guest for the second time, I had a different view of things. The preachers made more sense; the message of the Gospel was real . . . it wasn't just something to make me feel better. I felt like there was something real. As someone who has had many problems—with people and just getting by in life—that meant something to me. When you have something missing, there is always something missing . . . but Christ was waiting for me. I devoted my time to studying Scripture and applying the Gospel to my life.
"In the Bible program, I learned that there are people out there who love you no matter who you are—and it's not so much of our own will as much as it is a reflection of God's love through us. I used to be the most aggressive person, and the Bible program taught me how to love people and forgive them when they make mistakes. I have learned to trust people. Without God, I would still be addicted to meth. Without God, I would still be picking up cigarette butts off the ground. Without God, I would still be cursing my father for what he did. Now, God is my rock.
"I've been here for a little over a year now. I have grown in many ways, including spiritually. I have learned a lot, and my teachers have helped me. Soon, I will be graduating, which means I will be able to start working and saving up to build a new life—hopefully even start a business. To be whole and secure is something we should all strive to be, and God can provide that no matter where you are in life. Even if you are living in an alley or out in a forest like I was, God can bring you back and make you whole."
Only a relationship with Jesus Christ could fill the hole within Felix's heart. With no family or spiritual foundation, Felix was like a lost sheep amongst wolves. His first brief visit to PGM planted the seeds of the Gospel. And when he came back, with a broken but open heart, Felix allowed Christ into his life. He is now building a new life upon a new foundation, one that is solid, true, and eternally free of the pains and bondages we face during our brief time here on Earth. Your faithful and generous support maintains a lifeline to those who are lost and in need of a Savior.
Please give today to help more men and women overcome homelessness through new life in Christ.