September 2020 PGM News – Stewardship Update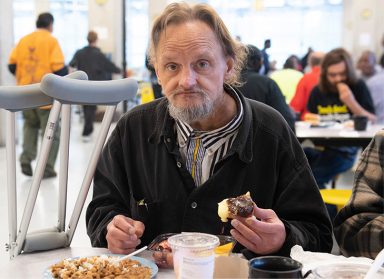 From Stephen Welch, Director of Development
We share the Gospel of Christ many times a day at Pacific Garden Mission. And as we care for the hearts of our guests, we also feed, clothe, and shelter those who come through our doors.
Here, our mission field often becomes our family. One way we serve this family with the compassion of Christ and minister with the transforming message of the Gospel is through the food we serve and share. We are grateful to our donors who make the meals possible. Below is a partial list of the items we will use this fall to feed the multitudes:
The three-month kitchen needs to prepare for Fall 2020
Ground beef — 3,000 lbs.
Poultry — 7,000 lbs.
Pork — 1,000 lbs.
Potatoes — 3,000 lbs.
Eggs — 1,500 doz. (1.5 lbs. per dozen = 2,250 lbs)
Cheese — 4,000 lbs.
Milk — 2,000 gal. (8.6 lbs per gallon = 17,200 lbs)
Vegetables — 15,000 lbs.
Dry Beans — 1,200 lbs
Long grain rice — 2,000 lbs
Some other breakfast/lunch staples include:
Breakfast sausage — 3,000 lbs
Oatmeal — 1,800 lbs
Pancake mix — 1,100 lbs
Sandwich bread — 63,400 slices (~4,000 lbs)
Luncheon meat — 3,000 lbs
The total weight above is 67,550 lbs!
We are grateful for the volunteers, donors, and prayer partners that help us create a healthy environment at PGM where Jesus saves.
Please help support Pacific Garden Mission today so that more men and women can overcome homelessness, pain, and addiction while finding peace in Christ.