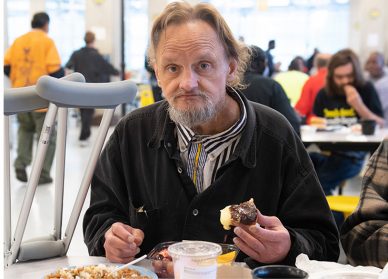 In the words of our founders written in 1917, "One look backwards causes me to marvel when I think of the vicissitude through which the Mission has passed. Its testings and triumphs, its struggles and victories, will never be known until the Recording Angel reveals the secret record."
Through it all, our supporting friends like you have stood by our side with the sole purpose of reaching the lost with the Gospel of Christ.
You have helped us continue to serve with the compassion of Christ and minister through the transforming message of God's Word. Together, in 2021, we will offer life answers through faith in Jesus Christ, through any season of life, so that our guests become fully functioning followers of Christ.
As we move forward into the future, please pray about how God can use you in the mission field at PGM.
One way might be through a legacy gift. By including Pacific Garden Mission in your will or estate plan, you can help transform the lives of broken men and women far into the future. Your gift will help men and women receive the help they need and start anew in Jesus Christ.
To talk with us about making a legacy gift to Pacific Garden Mission, please contact Stephen Welch at welchs@pgm.org or 312-429-6700.
May God bless our years ahead. Thank you for your faithful support.
Please give today to help more men and women overcome homelessness through new life in Christ.