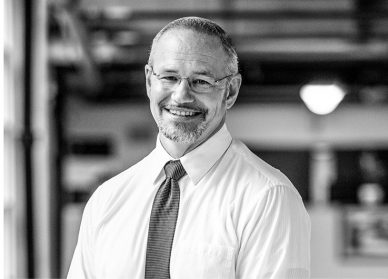 As we begin another year, I start by looking back. The Mission was founded in 1877—and I quote Mel Trotter in 1914 when he said, "The Pacific Garden Mission means everything to me. I consider the brightest spot in all Chicago is at 100 East Van Buren Street. The darkest night of all my life, I went into the Pacific Garden Mission and there heard the precious story of love . . . heard that Jesus loved the drunkard.
When the invitation was given, I raised my hand for prayer and Jesus was pointed out to me by Harry Monroe as a living Savior, and the light of God shone in my soul and I had a glimpse of Jesus."
Mel went on to start 69 rescue missions around the world. In 1914, Mel said that we were the brightest spot in all of Chicago—and in 2021, that statement still rings true. I recently spoke to a man that said the best thing to ever happen to him was coming to Pacific Garden Mission. Chicago is a dark city. Last year, we had numerous riots, some coming within blocks of the Mission. Stores in the area were boarded up. The number of shootings and murders is astounding. Drugs are now being used in the open with no fear of consequence; gangs control some neighborhoods and operate in plain sight. Many are afraid to go outside—fear reigns in the hearts of many.
In the middle of this madness stands the brightest light still . . . the Pacific Garden Mission. Many still stumble into the Mission looking for direction and are driven by their need for shelter, food, and safety. The message we proclaimed through God's Word in 1877 has not changed, and we are still seeing people set free. Songs are still sung, the Gospel is still preached, and testimonies are still shared—and thanks to you, our doors are still open. I want to thank our Lord, Jesus—and you, our donors—for coming alongside us this turbulent year, supporting the less fortunate, and allowing the Mission to remain Chicago's brightest place. Thank you.
Please give today to help more men and women overcome homelessness through new life in Christ.