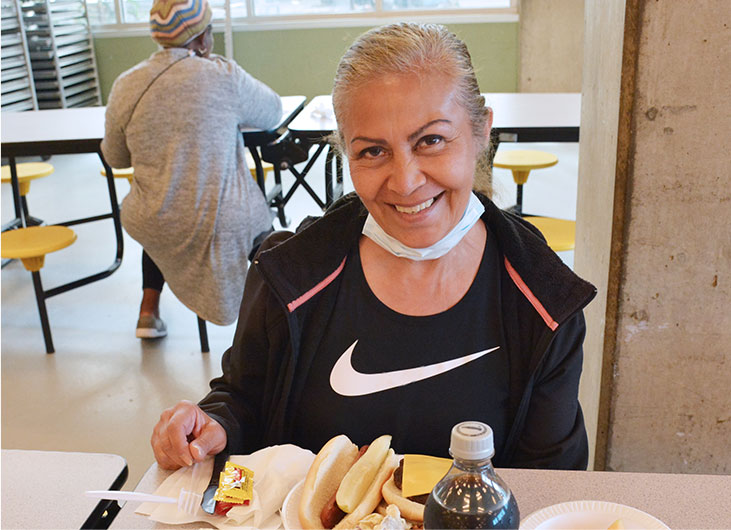 We have been praying for wisdom, and we invite you to join us. We know God has a plan, and we trust Him. Almost a year ago, in April 2020, many of our guests and staff tested positive for COVID-19, and we knew we had to make lightning-fast changes to our building set up to stop the spread of the virus. That meant protecting the Gospel ministry and the people serving in it while also continuing to minister to our guests with the Gospel's transforming message.
We began strict guidelines on social distancing and capacity along with many other safety procedures. By September 2020, we had a perfect negative COVID-19 test score of every soul in the building—staff, and guests!
Our greatest challenge has been how to accommodate the homeless in the winter because the bitter cold can cost them their lives. But, Pacific Garden Mission has been committed to remaining a place of safe refuge in the winter, especially when temperatures drop. One February, a few years ago, we had 1,178 souls in the building. Last year, a man died less than a block away, frozen under a tarp by the Amtrack building. Warm food, clothing, shelter, and showers are essential—but the most important thing is the Gospel of Jesus Christ, which transforms lives for all eternity. And over the years, we realized that God uses the elements to reach the lost with the Gospel.
As cold weather continues over the next several weeks, there is a significant need right now, and we do not want to turn these loved ones away. We've implemented a plan to use the greenhouses for overnight stays, the second-floor dorms as day rooms, and all other available spaces. We hired more seasonal employees and added three shifts to cover the additional areas and needs seven days a week.
We want to be known as Chicago's Gospel Warming Center. As you know, there are multiple services with invitations to receive Christ and join the programs we offer. Everything is free, and each person who comes here will meet with a counselor in our intake center to lay out a plan to helping all of our guests to become fully functioning followers of Christ.
We'll soon be preparing for Resurrection Sunday, celebrating all that Christ accomplished through His sacrifice for us. We pray that many who have come to PGM to get out of the cold will join us in celebration as redeemed sons and daughters of God!
Please pray for the men, women, and children we minister to—they are each someone's child, sibling, or parent. No one should die in the cold or in their sins. Jesus is the answer for all eternity, and He is using you and PGM at a time like this.
Thank you for your faithful support.
Please help support Pacific Garden Mission today so more men and women can overcome homelessness and find new life in Christ.